TRANSGENDER HAIR REMOVAL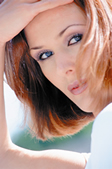 Electrolysis For Your Life Change.
One of the many considerations in dealing with the major transgender life change is the use of Electrolysis to assist in making the initial preparations. Electrolysis is a selective treatment to permanently remove facial and body hair. You may start Electrolysis treatments on your body and face at any time but most doctors recommend establishing your new hormone levels before full scale body work.
During this period your Electrologist could not only be treating your eyebrows, hands, fingers and toes but also working collaboratively with your other caregivers such as doctor(s), surgeon and, possibly, therapist to assure the proper flow of information thus insuring your smooth transition. Minimally, your electrologist should receive a packet from your surgeon regarding the electrology work needed prior to surgery.
Proven Treatment
Permanent hair removal is essential to realizing your goals. Electrolysis is more effective than ever before. Furthermore, you can rest assured that your treatment will take place in the most comfortable, private environment possible. A safe, permanent method of hair removal, Electrolysis can be applied to most facial and body areas and is effective on all skin and hair types.
A Treatment As Unique As You
A comprehensive and confidential evaluation ensures a personalized plan to address your specific areas of concern. Based on your consultation, your Electrologist will recommend a treatment schedule that takes into account your hair, skin and health history.
When all is said and done, transition should lead to a happier and more productive life. Let Electrolysis help you find the freedom from excess hair growth for and in that new life.
Electrolysis Eliminates Hair – Permanently – With Unsurpassed Results